Amazing Techniques Anyone Can Learn!
Start sketching in color and watch your concepts come alive.
The first "How To" series of instructional marker rendering books created for aspiring artist and designers.
The easy to follow the step-by-step instructions explain the process used by pros. Then simply apply what you've learned to create your own amazing artwork.
If you love working with pen and marker or prefer to work digitally, the proven techniques taught here are easily applied to any situation.
View more of the author's artwork on Instagram - @robert1117
Instagram - @robert1117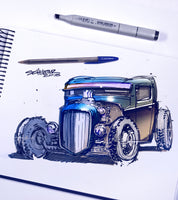 Testimonials
I purchased a Vol 1 & Vol 2 for my sons and we love working on them together, looking forward to the next volume!

Richard S.
Just got it! Love it, and a steal for the price. Implement what you teach and you'll improve. Thanks for putting it together and giving an insight to your style.

The Sketch Monkey
It's easy to get started, it shows you what you need, how to do it, and why it works!

Luke O.
Picked up the Digital Book, it's awesome, Thx for getting me back into drawing!

Krzysztof S.
I love that this book is travel size and the step-by-step visual instructions are perfect!

Hector Silva